It's no secret anymore. The mobile ordering business is absolutely boomin' and is expected to take off even more over the next 3-5 years.
According to Crone Consulting, in five years, "half of all sales at quick-service chains will be placed digitally before the customer ever steps foot on the premises". It's why every big restaurant, grocery store and pharmacy around the country has created a mobile ordering app or has jumped on board with an Order-Ahead aggregator. That includes McDonald's, Walmart, CVS, Target and Starbucks.
But it's for more than just the corporate giants that are getting in on the act. Mom and pop shops all around the country are starting to jump on the mobile ordering wagon and a lot of it has to do with the current boom and the expected growth, per Business News Daily:
Business Insider reports that Taco Bell's mobile order tickets are 30 percent higher than its in-store sales.
The National Restaurant Association's 2016 State of the Industry report shows that 63 percent of smartphone users place takeout or delivery orders using their phones. However, only 37 percent of restaurants offer mobile ordering, with chains and franchises four times more likely to offer mobile order-ahead apps than independently owned establishments. Industry experts expect the demand for mobile order-ahead to rise, estimating a 57 percent increase in these sales over a five-year period, reaching $38 billion by 2020, according to Business Insider.
Industry experts expect the demand for mobile order-ahead to rise, estimating a 57 percent increase in these sales over a five-year period, reaching $38 billion by 2020, according to Business Insider.
Order-ahead aggregators, such as Grubhub and Yelp's Eat24, are mobile app platforms that work with many restaurants, giving customers the ability to find multiple order-ahead and delivery restaurants from a single app.
But mobile ordering is much more than just creating/signing up for an app.
With the addition of mobile orders, restaurants, grocery stores and package stores will need to adapt the parking lots to fit the customer's needs. And, when it comes to mobile orders, the biggest need is designated curbside parking spots. This is not only important for the customers, who will need these nearby parking spots to park and receive their orders, but it's important for the employees to be able to find the correct vehicles quickly.
Spoiler: it's not as easy as some would think.
Imagine walking out into a parking lot, looking for a black Ford Fusion. At a place like Target or Walmart, there's likely going to be several Fusions and other black cars all throughout the parking lot. Without designated spots, it'll be a pain for employees to find the correct car and nothing would look worse to your customer than an employee helplessly searching through a parking lot with bags of food or goods.
So, designated parking spots it is. But, here's another problem, how will the customers know exactly where to park? That's where Ideal Shield has it covered.
Sign bases come in all different shapes and sizes. Some like to use makeshift DIY designs that include heavy buckets of concrete with a metal sign sticking out of it: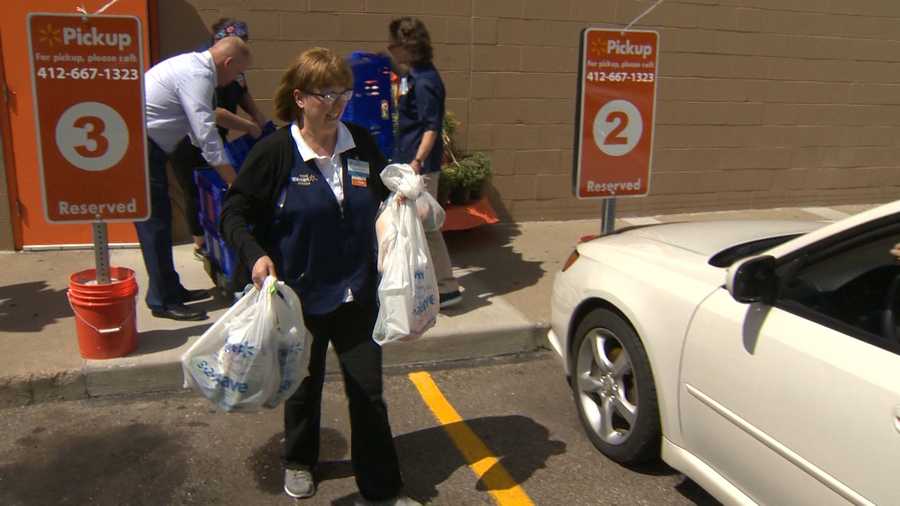 Others like to go the cleaner, cost-effective, more professional look and add some of Ideal Shield's highly visible, plastic, portable sign bases to highlight its mobile ordering parking spots:
On top of being visible and reliable, our sign bases are also available with wheels. That means employees can wheel in the sign bases during non-store hours or non-mobile order hours, which allows for the spots to also be used for everyday customer parking.
Whether your company is a global power or a local favorite, our curbside pickup pyramid sign bases are the perfect fit for all of your mobile ordering needs. Contact our experienced and knowledgeable sales staff today! Make sure ask all about our sign base options, parking blocks, storefront protection bollards and everything else in our catalog of facility protection & maintenance products.